Frequently asked questions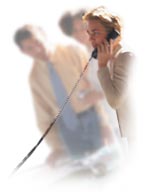 Here we tried to cover some special topics about our services and their terms. When you surf our site, do not forget to see this page as we updates FAQs several times depending on received questions.
Q. What Vision Plus can offer to me?
A. Vision Plus has mission statement to provide cost effective solutions to avail benefits of information technologies. So, if you are looking a professional solution to developed your web site, host your website, or database software for your office, or want to maintain your computer, or wish to purchase computer / hardware for home or office, we are your selection
Q. How long will it take for my website to get online?
A. The answer to this one is simply "it depends.". There are many factors involves for completing a web site and as you know each website is unique. It is difficult to determining exact period. However, assuming that you provide all the necessary information, and you have an average sized website, you can expect to see a complete website within three weeks.
Q. What hosting plans do you offer? How much it will cost to me?

A. We have several customized hosting plans. Depends on your requirement you may choose anyone. Please contact us to get a quote. With regard to cost, it starts from Rs.3500/- per year (500mb space, 25 emails, MS SQL database). All plans include one free domain (.com or .net) name
Q. What are your payment terms?

A. Minimum deposit of fifty percent (50%) is required to commence work. Before deployment of your site or software, we will show you a demo. If approved than we require twenty five percent (25%) of contract payment for completely implement the web site / software. Remaining twenty five percent (25%) will be payable for you within free service period which is of one month period.
Q. What are your contract terms?
A. Since each job often has its own unique needs, the contract is tailored to each design project. All offered packages have different terms and also your needs may customize our package as well as terms could be changed. Please contact us for your needs so we and you both can construct a better contract.
Q. What will be about after web / software development maintenance?
A. We provides maintenance services for the software / web site. If you need our services for this purpose, you may make a deal with us. Look after of computer labs / computerized offices are also included in our maintaining services.
Q. What is free service period?
A. When we developed a web site or software, we provide one month free maintenance service. During this period if you found any error, that will be resolved without any cost.