Hardware Solution (Only for Karachi)
Computer technology are running to up and now available easily. Choosing of right solution for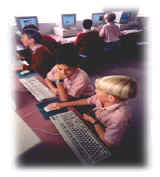 computer system, or its part, is a very important step. Do you believe what you actually need, and what you are purchasing is original ??? Are you looking professionals to look after your computerized labs or departments? The solution must be according to your real needs, cost effective with friendly support.
If you require a single PC, or want to purchase lot of computers, we can make it easy and cost effective. We are here to help you succeed on the world of knowledge by giving you high technology at affordable price. For package details please visit our offered packages page. We share hardware solution services with our brother group 'Computer Inn International'.
Following is a short list of our offered categories;
Maintenance of computerized lab on contract basis (Software + Hardware)

Selling of computer system (For individuals / for bulk)

Hardware maintenance for home users

Computerized Networking
We enjoy to offer a complete hardware solution at VPInfoTec. Your computer setup can be easily maintain by our services. If you make a contract with us, you can get worried off by your computer problems. Vision Plus can solve them for you. Our hardware services available on contract basis and are very suitable for schools, institutes and stores.
Please note our hardware and maintenance solutions are available only for Karachi city.